No matter who you are or what you do, it pays off to be prepared. In recent times, the term "everyday carry," or EDC, has risen in popularity, as people have become more concerned with keeping the essentials on hand. While there are tons of gadgets and accessories that fall under these essentials, the most popular are everyday carry knives.
There are tons of daily tasks that can be made easier by having a pocket knife on you wherever you go. Picking the right one for you takes a bit of thought in terms of aesthetics, purpose, and cost. Luckily, you have us. We will walk you through the different ways folding knives can help you out on a daily, and how to choose the best EDC knife for you.
Everyday Uses for Everyday Carry Knives
There is no shortage of utility for this lightweight and low-profile tool. Everyday carry gear is available for just about any imaginable use, but a pocket knife can compete with the best of multi-tools in its own right. Whether you live a metropolitan lifestyle or spend a lot of time outdoors, there are sure to be ways that a cutting tool can make your day go a little more smoothly.
Uses for EDC Knives
· Opening boxes and packages
· Cutting cables, chords, and zip-ties
· Tightening screws
· Opening bottles
·      Cutting fruit, bread, and other foods
· Chopping herbs
· Carving or whittling wood
· Skinning game
· Gutting fish
Beyond these more common uses, pocket knives also serve the function of providing you with an option in self-defense situations. Not only that, but a pocket knife can be an indispensable tool to have on hand in the case of a natural disaster or another catastrophic emergency. While ideally, you will never have to use your EDC knife in these capacities, it is always better to stay prepared.
Common Pocket Knife Styles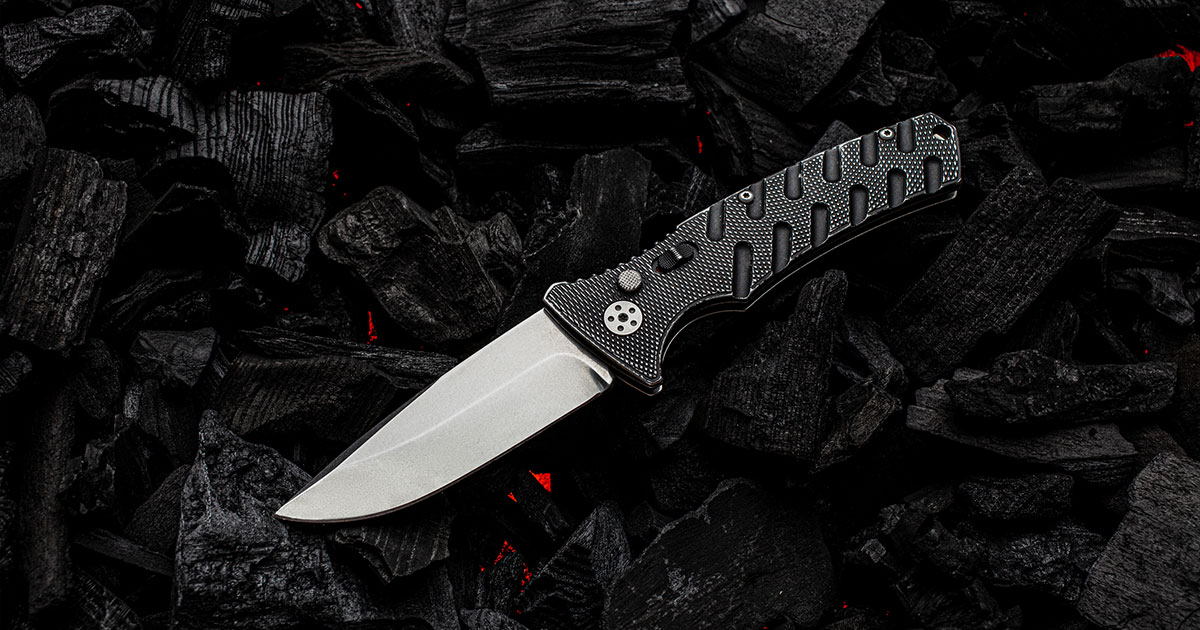 Before getting into our recommendations, consider some of the different styles of pocket knives that are commonly available.
Locking Knives
A middle ground between safety and convenience, a locking pocket knife is a popular choice for EDC knives. There are a couple of different lock types you are likely to come across, and while they all accomplish the same basic function, you may prefer one over the other.
The more standard of these mechanisms is the liner lock, in fact, you have probably seen them many times before. When folded shut, the blade of the knife keeps the liner lock out of the way. Once you have opened the blade, the lock is able to set into place, making it impossible to fold the knife closed again without pressing the steel liner aside to allow the joint to spin back into place.
Another common locking mechanism is the frame lock. Rather than pressing on a liner within the frame to release the lock, you would instead press the appropriate spot on the frame itself to release the lock.
Slip Joint Knives
Though not quite as secure as locking blade pocket knives, slip joint knives are the most popular style for an EDC pocket knife. Rather than being locked into an open position, the blade is held open using tension from small springs.
Despite this lesser degree of security seems like a disadvantage, slip joint knives are very easy to use in comparison. A firm pinch is all it takes to pull the blade open and slip joint knives are easy enough to shut with one hand, making it perfect for use while multitasking.
Tactical Folding Knives
The tactical folding knife is another common style for everyday carry knives. Originally designed for soldiers on the field, tactical knives allow you to open the blade with one hand, and without needing to pinch into the nail nick. To make up for the lack of a nail nick, tactical knives are often equipped with thumb studs or simply a small divot for users to press against with their thumb for easy opening.
Apart from the ease of opening and closing, tactical knives often have a built-in belt clip for easy carrying, and usually have both straight and serrated edges on the same blade for multiple uses. The tactical style has become a standard for knife enthusiasts as they are durable and convenient.
Our Recommendations
There is no shortage of high-quality and affordable pocket knives to consider for everyday carry needs, but we have compiled a list of some of our favorite knives that any person would be lucky to have.
Chris Reeve Inkosi Plain
Chris Reeve knives are known for their quality and durability, and the Inkosi Plain is just another in that legacy. The knife can be ordered in a large (8.4" overall length) or small (6.5" overall length) with a tanto, insingo, or drop point blade available depending on your preference. The Inkosi Plain can also be ordered for right or left-hand users, so the option is available to any who might want it.
Durable with a titanium handle and lightweight (only weighing 3 ounces in the smaller size), this Chris Reeves knife is considered their most technologically advanced model yet. This knife will run you about $425, but it is more than worth it if it is within your budget.
Kershaw Deschutes – Caper
A great EDC item for any user, but especially for those who favor the outdoors, the Deschutes – Caper by Kershaw is a great option for those who prefer a fixed-blade knife. This knife boasts a D2 blade perfect for slicing and breaking down wild game with an olive rubber grip for better handling. The molded sheath keeps the knife secure, clean, and dry, even if it stays outside of your pockets.
Even for more standard home uses, this knife can certainly make the cut and is still a great step up from opening a package with your keys. Not only that, this knife is far more affordable, available for around $50.
Benchmade Bugout
The Bugout family of pocket knives has become an old standard for the EDC community, and for good reason. These knives are incredibly lightweight at 1.85 oz. and include a 3.24" CPM S30V steel blade adding up to an overall length of 7.46" when opened. The Bugout knife is completely ambidextrous, which makes it a great choice for any user.
The Bugout family of knives comes with a standard drop-point style blade but has a few options when it comes to handle finishes. The price also comes out to a happy medium between our other two picks, running for about $180.
Additional Considerations for Your EDC Pocket Knives
Before purchasing any pocket knife for your everyday carry, make sure to look into any local, state, or federal laws governing what kinds of pocket knives can be carried, including both concealed knives and those carried openly.
In most places in the United States, carrying a folding pocket knife with a blade under 3" long is perfectly legal. Some localities do not allow locking knives in public, and automatic knives or "switch-blades" are also banned in more areas than most knife types.
Beyond the type of knife, some areas will have specific laws regarding how you can carry your knife. Whether it has to be visible at all times or if you can conceal them inside your pockets depends on these regulations, so be sure to do your research before putting any money down.
Luxury Pocket Knives
If it is in your price range, there is no rule saying your EDC knife cannot have a little extra flair. William Henry has an incredible selection of luxury Damascus steel pocket knives, truly artisan cutlery, for any daily needs you may have.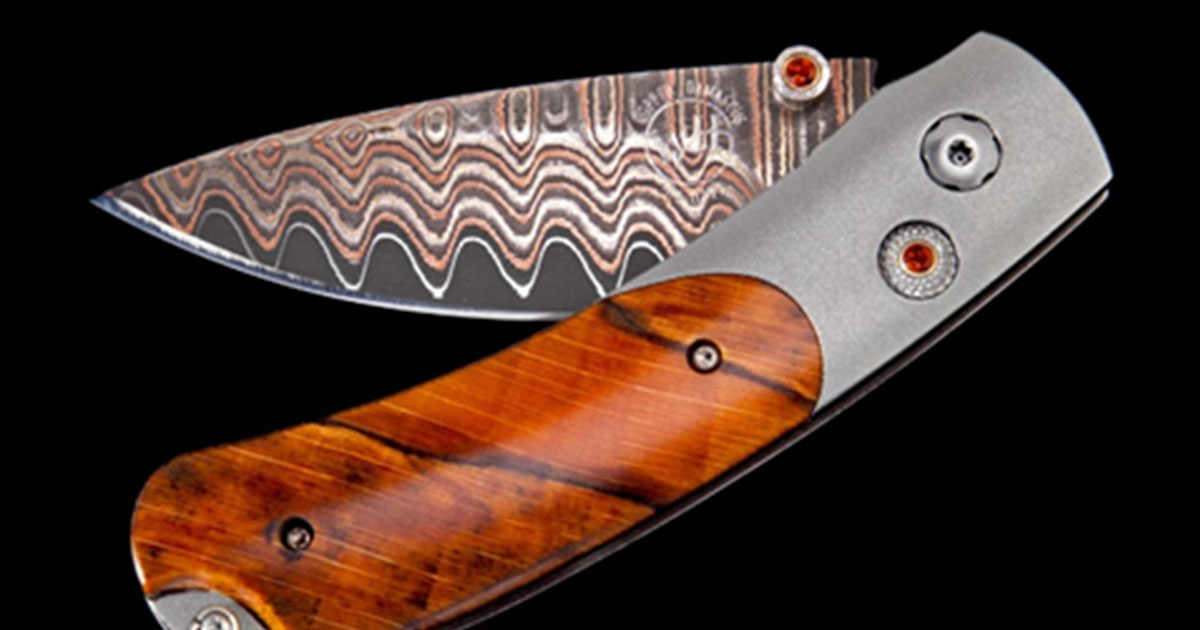 Kestrel Orange Wave
A stunning and strong option is the Orange Wave. This gorgeous knife has a titanium frame inlaid with orange-spalted beechwood. The blade has a VG-5 core to provide extra strength and durability and displays the signature "Copper Wave" Damascus design. The thumb stud and button locks are also set with citrine gemstones.
The Orange Wave and other knives by William Henry make for excellent EDC pocket knives, and could very well serve the same purpose for the next generation. This limited piece (only 100 in existence) costs $775 and is worth every penny.
William Henry earned its reputation by creating exclusive and unique pocket knives, elevating a utilitarian tool into a piece of stunning functional jewelry. Look through our collection of jewelry, writing tools, cufflinks, and other accessories.