By their design, even the simplest of pocket knives can accomplish great things in the hands of an average outdoorsman. Just about all blade shapes, whether drop point, clip point, spearpoint, and whatever else can come in handy as an everyday carry knife, but there is something to be said for exceptional high-end, artisanal blades.
Why Spend Extra for a Luxury Knife?
Pocket knives may be one of the most common tools you can find around, but everyday carry knives that can truly elevate the look of a knife enthusiast are few and far between. While a more affordable pocket knife can handle the same tasks you may need it to, it is, at the end of the day, only a tool.
While they rarely come with a pocket clip, more high-end pocket knives become something akin to art, but with all the same function that you need and want. These pocket knives can be fashion statements, heirlooms, display pieces, all while still providing you with all the usability you expect from your blades.
Anywhere you search online, you are sure to find a great selection of handy and well-made pocket knives, for you to purchase. However, none will come anywhere close to the elegance and artistry of this selection, some of the best pocket knives that William Henry has to offer for those with a higher price range.
Collectable Folding Knives
The William Henry catalog hosts a number of gorgeous high-end pocket knives. These are hand-crafted with a variety of rare and exotic materials that make for truly unique pieces in any collection. Most do not feature a long blade, but the blade materials and inlays on the frames all make for a great knife.
Galaxy
This stunning spearpoint pocket knife comes to William Henry from Chad Nichols, one of the premier Damascus artisans in the United States. The folding knife is made up of a hand-forged 'Cosmic' pattern Damascus blade, set in a 'Twist' Damascus frame, also hand forged. The Galaxy's frame is inlaid with carved agate scales and a set diamond button frame lock and thumb stud to allow for one-handed opening.
With a razor sharp blade length of 3.25 inches and a total open length of seven inches, it is perfectly sized for easy carrying in any occasion. The Galaxy comes with a gorgeous leather carrying case and elegant wooden box for displaying in your home. This blade is a perfect statement piece to be worn and used by the adventurers and dreamers among us.
Aspen
The Aspen features a stunning Persian style upswept blade shape crafted from high-quality steel in a 'Wave' Damascus pattern and a core of extra hard VG-10 stainless steel. The blade is set in a titanium frame with gorgeous yellow spalted birch inlaid on the handle. Like the Galaxy, the frame also has thumb studs and button frame lock, though these are instead set with citrine gems.
The Aspen's blade length is 2.5 inches and features elegant curves and smooth but firm lines. The Aspen has an open length of 5.6 inches, a stunning option for you to consider for an everyday carry knife.
Coral Reef
William Henry's Coral Reef also features a similarly gorgeous 'Wave' patterned Damascus blade steel in a Persian blade shape with a VG-10 core. The frame, however, is more sleek with a heat-blued 'Wave Mokume' design which is breathtaking to behold. The vibrant heat-blued colors sit beautifully against the mother of pearl inlay.
Coral Reef is similarly sized to the Aspen, with the open blade forming the classic 'S' blade shape that is a hallmark of Persian blades. The reliable frame lock button and thumb stud make this blade perfect for one-hand usage, and are set with Paua gemstones, also known as Sea Opal. This knife makes for an incredible piece of artistry and can come in handy in any number of situations.
Hand-Engraved Pocket Knives
For those looking for an even more unique items, these hand-engraved knives are among the best pocket knives money can buy, and each sport incredibly beautiful designs you will not find elsewhere. While any good pocket knife will do for the average user, few everyday carry knives would make you look as good as these folding blades.
25th Anniversary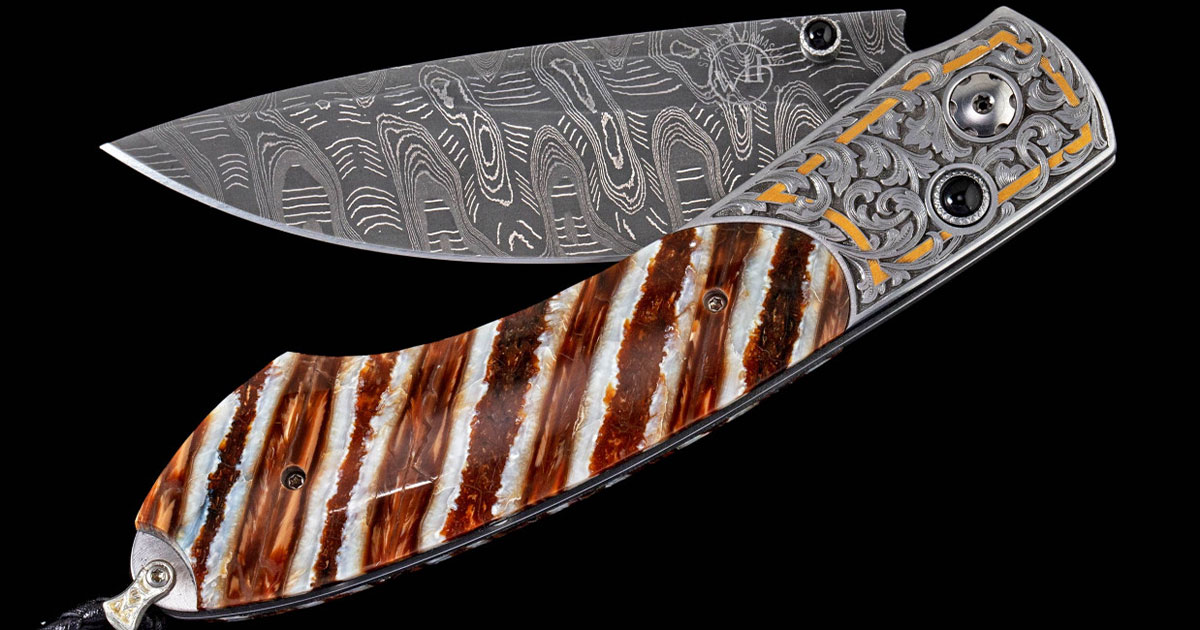 A true exemplar of the William Henry spirit is the 25th Anniversary, a special edition product of which there are only 25. The 25th Anniversary holds a hand-forged Damascus spear point blade steel. Created by Mike Noriss, the blade has a unique 'Hornets Nest' pattern that you will rarely find elsewhere.
The blade is set into a hand-engraved frame with 24k gold inlays made by Bottega Incisioni, as well as 10,000 year old Wooly Mammoth tooth on the grip. The stud and button lock for this knife are set with beautiful black onyx stones. This 7.19 inch knife would make for a once-in-a-lifetime gift to yourself or your loved ones.
Trout & Fly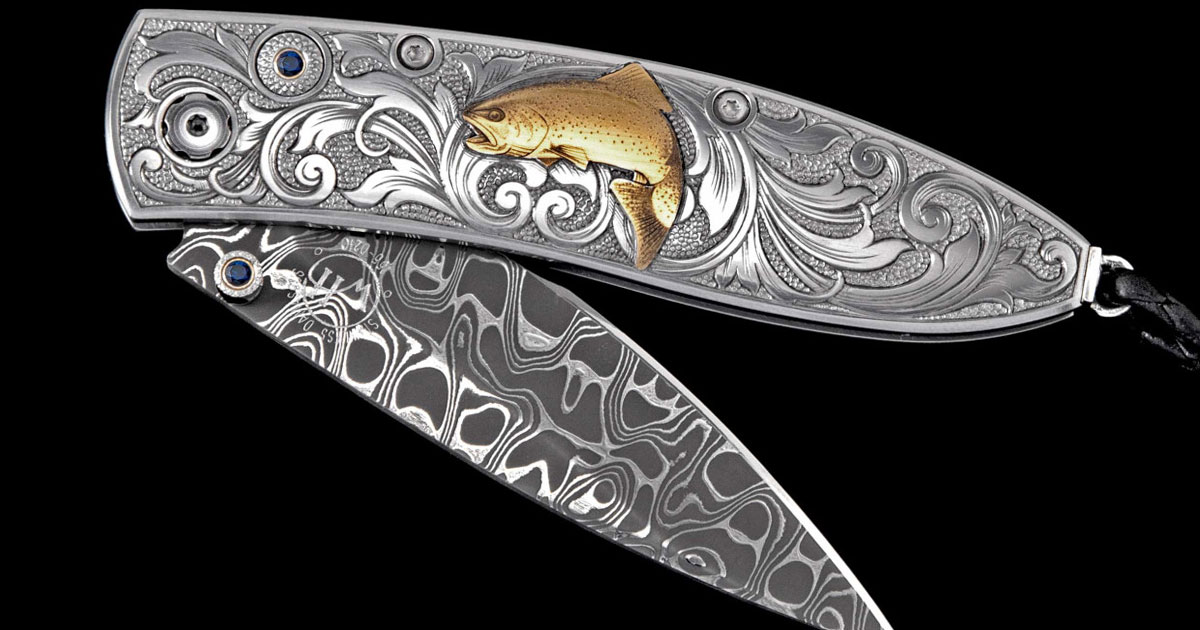 Especially in terms of design, the Monarch Trout & Fly is possibly the best pocket knife available at William Henry. This knife features a beautiful handle with 24k gold inlay in a trout design by Tim George and Lisa Tomlin, a stunning example of expert craftsmanship. The stud and button lock are set with Kashmir blue topaz gems, once believed to grant strength and dispel curses.
Also hand-forged by Chad Nichols, the blade has an eye-catching 'Intrepid' blade steel pattern, bringing the whole piece together for the viewer. The total open length of this knife is 6 inches, making it very convenient as a lightweight pocket knife. This incredible knife is only one of ten, so there is no time to waste.
Joker's Wild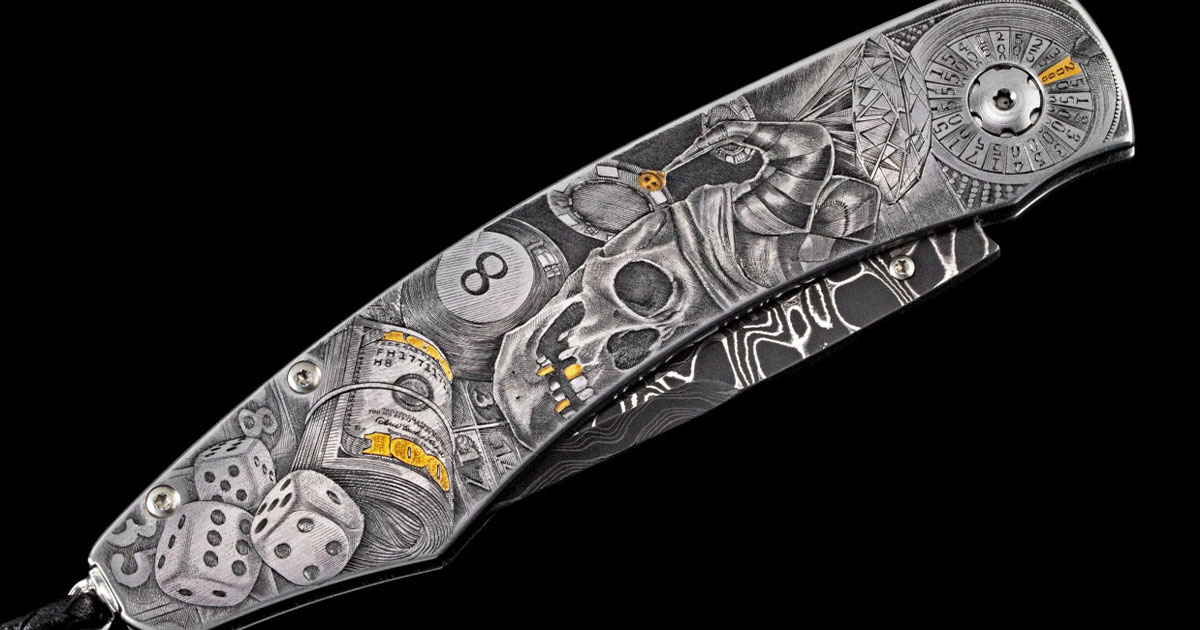 Also featuring 24k gold inlays by Italian jeweler Bottega Incisioni is Joker's Wild. In addition to the gold inlays, the stainless steel frame was hand engraved over hundreds of hours with artwork by Mick Butterworth and set with black onyx gemstones. Joker's Wild also holds a hand-forged 'Intrepid' style spearpoint Damascus blade by Nichols.
The limited edition design of the frame features skeletal imagery as well as many references to card and table games. While you should never gamble away a piece as stunning as this, Joker's Wild is sure to get you into any high-stakes game, and would make you the subject of envy at any card table.
William Henry Exclusives
These limited production knives will not be around for long and are only carried by specific sellers, consider picking one out as a one-of-a-kind gift for a loved one.
Unicorn 2022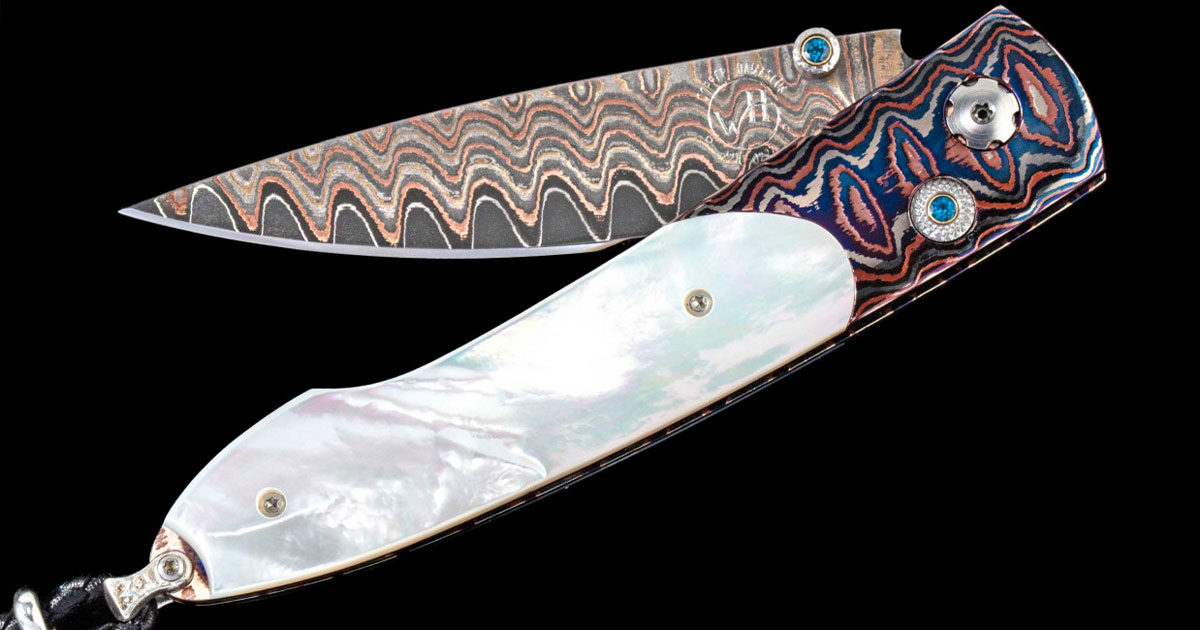 Exclusively available at Unicorn, located in Woodstock, Vermont, the Unicorn 2022 is a rare William Henry piece, with only 18 crafted in this edition. The design of the frame is a 'Wave' mokume gane design, a Japanese metal-working process that creates these beautiful overlapping patterns, and it is inlaid with an elegant sheet of mother of pearl.
The 'Copper Wave' Damascus blade, a signature design of William Henry's, holds a VG-5 core and is set into the frame with Kashmir blue topaz gemstones. The Unicorn 2022 is a distinctive piece that is easy on the eyes and in the hands. All blades are engraved with a serial number to ensure authenticity in this limited edition.
Pono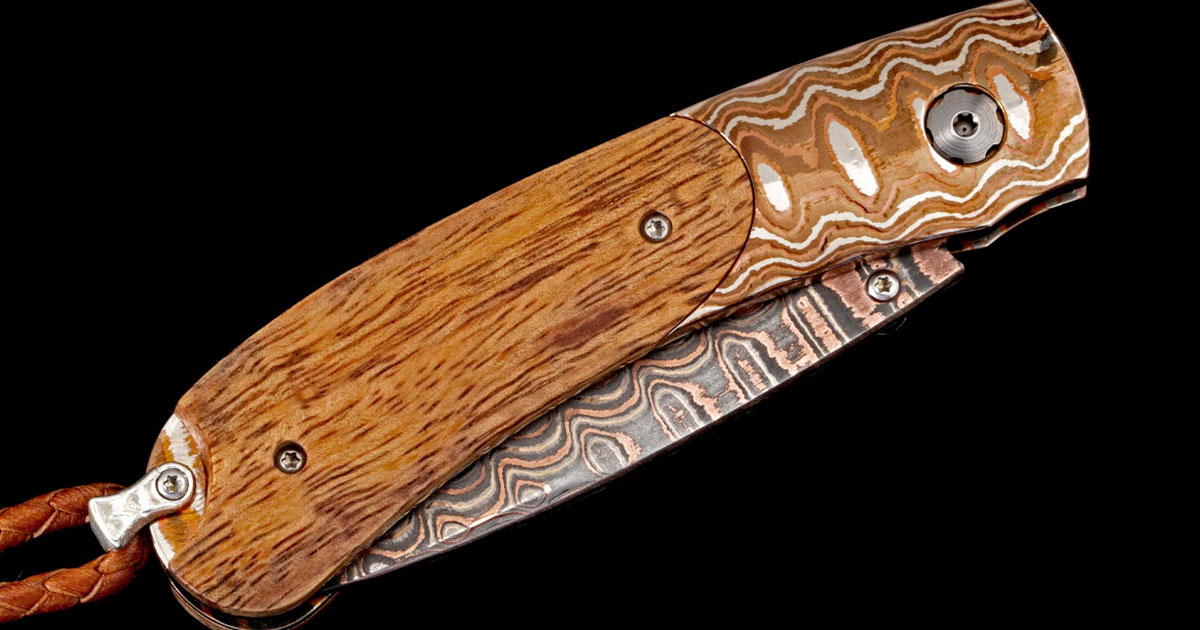 Only carried by Hildgund Jewelry, located in select Hawaiian resorts, the Pono's blade is made of 'Copper Wave' Damascus blade steel with a VG-5 stainless steel core. The blade is set in a beautiful 'Wave' mokume gane frame inlaid with curly koa wood, native to the Hawaiian islands.
The 'kestrel' style knife has a very classic look that goes perfectly with the stunning wood grain of the koa. This pocket knife is a total length of 5 inches and is perfect for use with one hand, it also comes with an elegant leather carrying case and wood presentation box.
Fixed Blade Knives
These small fixed blade knives are meticulously assembled with hand-forged Damascus steel and a variety of stunning inlays. While these sharp blades are a bit too fancy for a pocket clip, these corrosion resistant knives come with a stunning leather sheath for easy carrying and storage.
Burlwood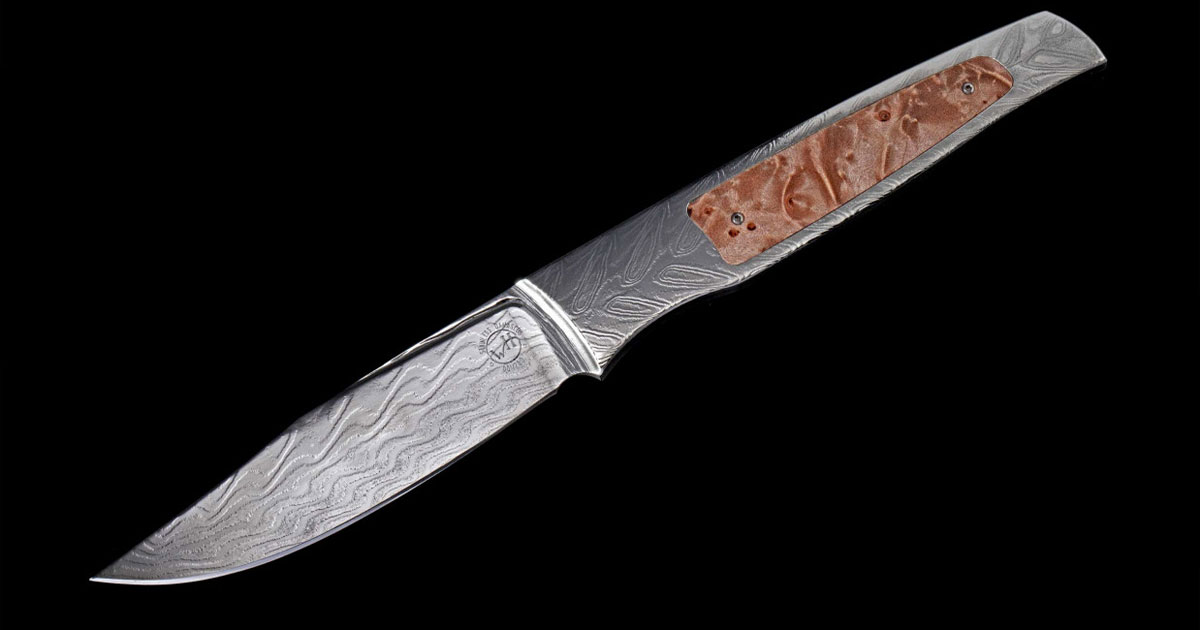 This fixed blade knife is made from a solid piece of forged Damascus in 108 layers, grinded down to make the Burlwood come to life. To create a blade with better edge retention and a hardness of HRC 59-60, alternating layers of chromium stainless steel and cobalt are utilized. The solid Burlwood knife is inlaid with American Maple Burl, each piece naturally featuring unique shapes and forms in the grain of the wood.
The frame is double etched in a Damascus pattern and polished. While not as limited as some of William Henry's other blades, only 250 Burlwood knives have been made. This knife comes with a sturdy leather sheath and documents to prove authenticity. While this solid knife boasts a total length of 8 inches, the sheath is still well sized to carry on your belt or in your pocket with ease.
Grove
The Grove is simple, sleek, and well-executed. The Raven style knife is forged from over 60 layers of three different alloys with a core of VG-10 to ensure optimal corrosion resistance and sharpness. The hilt holds an inlay of stabilized orange spalted beechwood, a beautiful feature that shows the beginning of the decomposition process on the wood.
The knife is framed in a black G-10 handle made of high-pressure fiberglass laminate, a type of composite. The handle includes an open channel surrounding the beechwood inlay, allowing you to see the Damascus steel in the tang beneath. This knife is clean, straightforward, and incredibly handsome, a great piece to have in your pocket or on your belt.
William Henry has the greatest selection of high-end pocket knives you can find, but be sure to explore the website to find stunning leather goods, jewelry, and some of the finest artisans in the world today.