As we begin our WH newsletter, I thought I'd share a little of the backstory of how I ended up here – what a long strange trip it's been...
I'm another one of those college drop-outs that did alright – in 1989 I left Cornell, mid sophomore year, to take a grunt job in a little knife shop in Davenport, CA near Santa Cruz. Why? Because at that moment, making things of permanence and enduring value made more sense than studying bold face terms in textbooks. I loved the way knives combined form and function, art and utility, performance and aesthetics, and I knew that almost every piece I worked on, day by day, would still be out there in the world long after I was gone. Quite simply, that made sense to me – and I never imagined that it would start me on a 30 year odyssey of a career.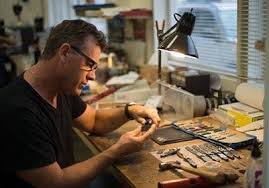 I learned quickly, became proficient and then more than that as a craftsman, and a few years later moved to the Arizona mountains and set up my own backyard knife shop in an old horse barn. For three years I made knives by hand, and quickly rose the ranks in American craft. At 25 years old my work was being juried into shows at the Smithsonian and Philadelphia Museum of Art among others – I had arrived at the top of the fine craft market in the US. But, as is all too often true, I was making peanuts – less per hour than waiting tables – my art could not sustain a life and a family.
(more…)