New You, New Year, New Style: What to Incorporate Into Your 2018 Style
As the New Year approaches, you may be thinking of giving yourself a style update to reflect how you have grown this past year. You might also want to incorporate some of your New Year's resolutions into your new look, like shedding some fat and putting on some muscle so you can fit into those skinny jeans you have always wanted.
No matter what your goals and objectives are for the coming year, William Henry can provide you with some inspiration and keep you updated on current trend in men's jewelry and fashion.
1. Men's Designer Jewelry
Most men tend to shy away from jewelry aside from a watch and a ring. Embrace men's designer jewelry this coming year to help build your confidence. When selecting pieces, look for those that fit with your personality and make you feel comfortable.
It is perfectly acceptable to indulge in several necklaces, bracelets, and rings if you so desire. You can also think about incorporating earrings into your new stylish look, too.
Whether you opt for a single simple necklace or want to layer several necklaces, both are popular trends right now in the fashion industry. Designers have added different arrangements of men's jewelry to the runways of New York, Paris, and other big fashion events
2. Skull Jewelry for Men
Another hot trend that is not just for pirates anymore is men showing off different types of skull jewelry. You will also find slight variations of the trending theme based on Vikings, Nordic Lore, and other warrior-type" cultures.
What makes the jewelry pieces in these collections truly stunning is the design, which is further highlighted by the use of sterling silver. You will even find the use of various gemstones, like the sodalite and the sardonyx with sterling silver used as an accent in both men's design bracelets and necklaces.
3. Retro Fashion Styles
Many designers are throwing it back to the 1980s and 1990s and the glam rock/punk rock/heavy metal styles, which all feature bands wearing multiple pieces of jewelry. There are chic pieces that fit right into the current retro themes fashion houses and designers are adapting for 2018, including:
• Padded Jackets: Those padded winter jackets we were fond of are trending once more. Designers paired simple necklaces with a single pendant around the neck to accentuate the jackets they showed on the runway.
• Business Dress: Whether spending time out shopping or heading to work, normcore (casual) business dress is back in style, with influences seen from the mid-1980s and early 1990s. Gone are skinny pants and untucked dress shirts for work. 2018 will see a switch to satin shirts and ties, along with suit coats and an overcoat. Accent jewelry pieces incorporated into these designs are men's cuff links, tie clips, earrings, and men's bracelets.
• Red Is the New Black: Several years ago orange was the trendy color that stood out. This fashion season, red is all the rage in styles seen on the runways. Almost more popular and trendy than black, from red hoodies to full red dress suits. Accent jewelry pieces were also incorporated into designs to make them pop and stand out, like a simple "choker" style necklace to an over-the-hoodie larger necklace with an ornamental pendant.
4. Single and Layered Necklaces
Trending now in necklaces are those that have a basic style or pattern on a simple chain made from silver, gold, or leather, with or without an ornamental pendant. The male models at the fashion shows were seen wearing either a single necklace or multiple necklaces layered on top of each other. Some designers highlighted this "minimalist approach" by adding complementary hoop-style earrings in silver or gold.
5. Chains with Larger Ornamental Pendants/Talismans
Another trend is to combine the simplicity of the necklace along with a longer chain and a much larger pendant or talisman. Some of the styles also incorporate smaller charms into the design. Layering is also acceptable with this popular way to wear men's jewelry.
6. Men's Designer Bracelets
Fashion houses showcased a wide variety of men's designer bracelets at their 2017 fall and winter and 2018 spring and summer shows. From simple designs to more elaborate and complex pieces, bracelets made from gold, silver, leather, or a mixture of materials were worn. Some even included small charms or pendants when they were worn alongside the larger chains with charms, pendants, or talismans.
Creating Your New Look for 2018
Use these great tips and suggestions for creating your new look that fits with your sense of style and personality.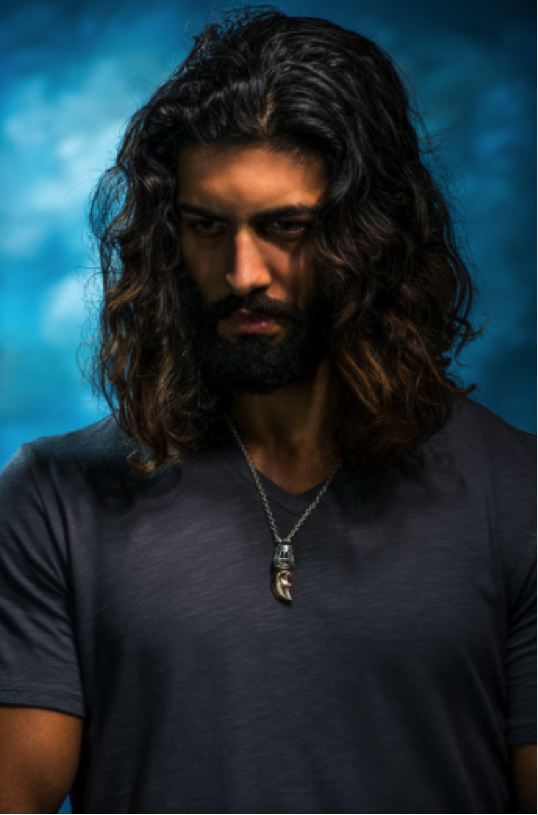 When building a new outfit, start with one aspect of it—say, the pants. Do you want to wear jeans or business casual style pants? Next, decide what type of shirt(s) you want to add. It is acceptable to layer shirts—like to have a sleeveless style shirt at the base, followed by a button-up shirt on top, and a hoodie over the top of that.
If you layer your shirts, be sure the colors complement, not contrast. An alternative shirt style that you may be noticing a resurgence of is to wear a long sleeve shirt as the base shirt and a short sleeve shirt over the top.
Once you have selected your pants and shirt, you can start deciding what men's designer jewelry pieces you want to add to complete the new look. Necklaces work well for all types of looks because they can be worn over shirts or shirts left unbuttoned to show off the necklace.
Bracelets work with both short- and long-sleeve shirts, but not so well if you have on a padded winter jacket or gloves that cover up your wrists. Then finish off your look with the right accessories, like belts, hats, shoes, and so on.
What About Men's Rings?
When it comes to rings, you are not limited to wearing just a single ring at a time. If you are married, of course you will have your wedding ring on your wedding finger. Yet you are free to add rings that complement your bracelets and necklaces on your other fingers or thumbs.
Once you are, if you want to add more, then go for it.
The good thing about men's rings is they tend to work with just about any look you create, although you may want to get a few extra rings that go well with specific bracelets and necklaces if you are particularly fond of a certain jewelry design.
To check out some of the latest trendy men's designer jewelry styles, or for assistance in selecting the right pieces, please feel free to contact William Henry at 888.563.4500 today! We would love the opportunity to help you achieve a new look for the new year with the right men's jewelry pieces.