Being a hero isn't a quality you're born with. It's something you acquire over the years and decades of experience building relationships and developing a legacy. Every person undergoes a period of growth, renewal, and evolution that will eventually lead to heroic achievements.
In today's ever-changing world, the archetype for the heroic and fearless man is being subverted by a more refined, reflective, and complex man who is strong enough to hold convictions, feel emotion, and appreciate the finer things in life.
The Embodiment Of Strength and Sophistication
One motion picture action hero we can all categorically support is Vin Diesel, the leading star of the Fast & Furious franchise, Chronicles of Riddick, xXx, and the new Bloodshot movie, Valiant Comics' first foray into the cinematic universe. In his latest high-octane flick, Diesel plays Roy Garrison, a biotech killing machine who would make the Terminator run the other way.
Diesel's tough-guy persona is undercut with a resounding emotional resonance when you find out that Garrison has been programmed for revenge by the government to avenge his wife's death. The killer is simply an implanted memory designed for Bloodshot to kill whoever his masters want. Beneath the action hero veneer lies a story about hope, freedom, and loss.
Diesel is the perfect embodiment of the renaissance man with an edge who can tap into uncharted waters in the action hero canon. His penchant for developing thoughtful characters has earned him enormous success. He's continuing the Fast & Furious legacy in May 2020 with the tenth installment. Even more impressive, Diesel stars and produced the new Fast & Furious and Bloodshot movies.
In The Home Issue (Issue 168) of Flaunt magazine, Vin Diesel dons William Henry's Noir and Gentis pieces from William Henry's bracelet collection for his front-page promotional spread. From the flashy shirtless poses to ones where he's effortlessly rocking a business casual suit, Diesel embodies the true spirit of William Henry luxury jewelry and the contemporary man who embraces passion and fashion.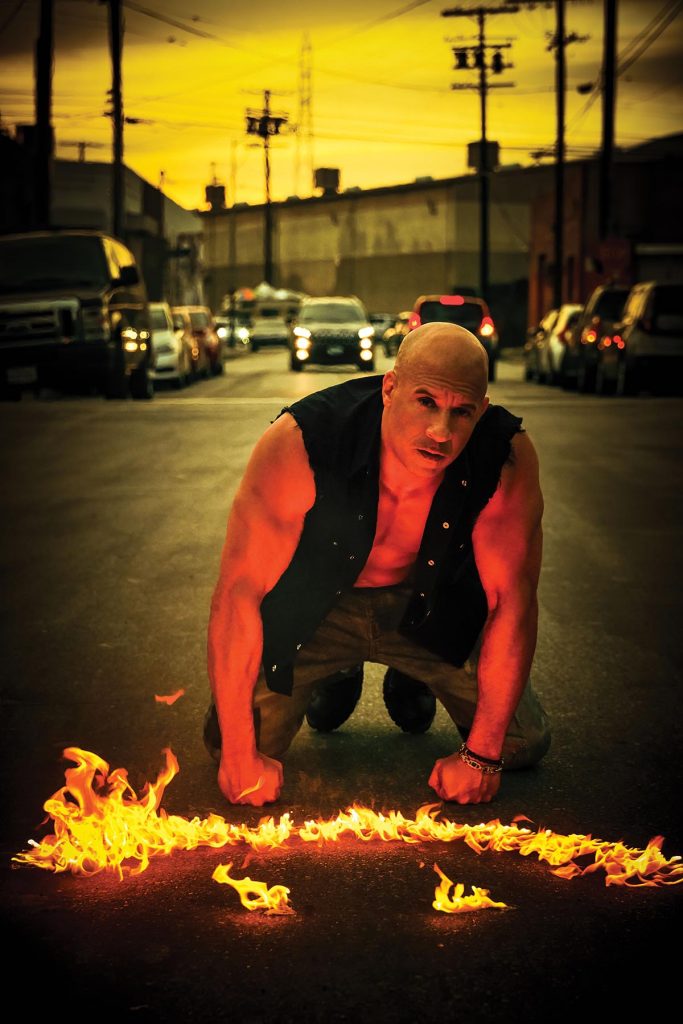 Speaking on his overall philosophy in life, Diesel told Flaunt, "The best version of myself has always been just a pure message of love. I really, really, really, really, really, really believe that. At my core. Maybe because I was a bouncer in New York City, I don't have to front to be tough. And because of that, I have more freedom to be - loving? If that makes any sense."
Speaking on the film, Diesel notes the complexity of the Bloodshot movie by saying "it's a film that speaks to the quintessential soldier or soldier's plight. Maybe that's why this character's been the military favorite superhero, because they so identify with going out and being a machine, then come back and feel discarded or unappreciated."
Bloodshot is just one of a long line of movies where Diesel has attempted and succeeded to infuse emotional nuance and the classic action hero fix of explosions and intense car chase scenes needed to propel the multi-million dollar cinematic adaptation into stardom.
On his Fast & Furious character, Dom Toretto, Diesel reflects on how different it is "to monitor a character's progression over a decade and how much to incorporate your own evolution." As a father of three children, Diesel has elevated the father archetype to include more nuance and fragility as seen through his heartfelt social media posts.
As a writer, director, producer, and all-around leading man, Diesel remains humble to his New York roots coming from an artistic and bohemian household. His head-spinning worldwide success never shrouded his commitment to family and love. Beneath the abs of steel and gravely vocal timbre lies a thoughtful and introspective man who isn't afraid of change, evolution, and emotion.
The outdated image of a hero wearing dusty cowboy boots or a thick leather jacket and chains has evolved with the advent of a personalized and luxurious jewelry industry full of options for any sensibility. Male fashion now embraces the last frontier: jewelry for men. Men are eschewing all outdated preconceptions in favor of taking risks and cementing an aesthetic image while still being masculine.
William Henry And The Evolution Of Masculinity
William Henry is thrilled to have our exotic bracelets showcased on Flaunt's glossy fashion and culture magazine. Like Diesel, we're doing our part to innovate upon existing men's fashion accessories and pocket knives. Our wide range of luxury and legacy products reflects the changing landscape of what it means to be a man.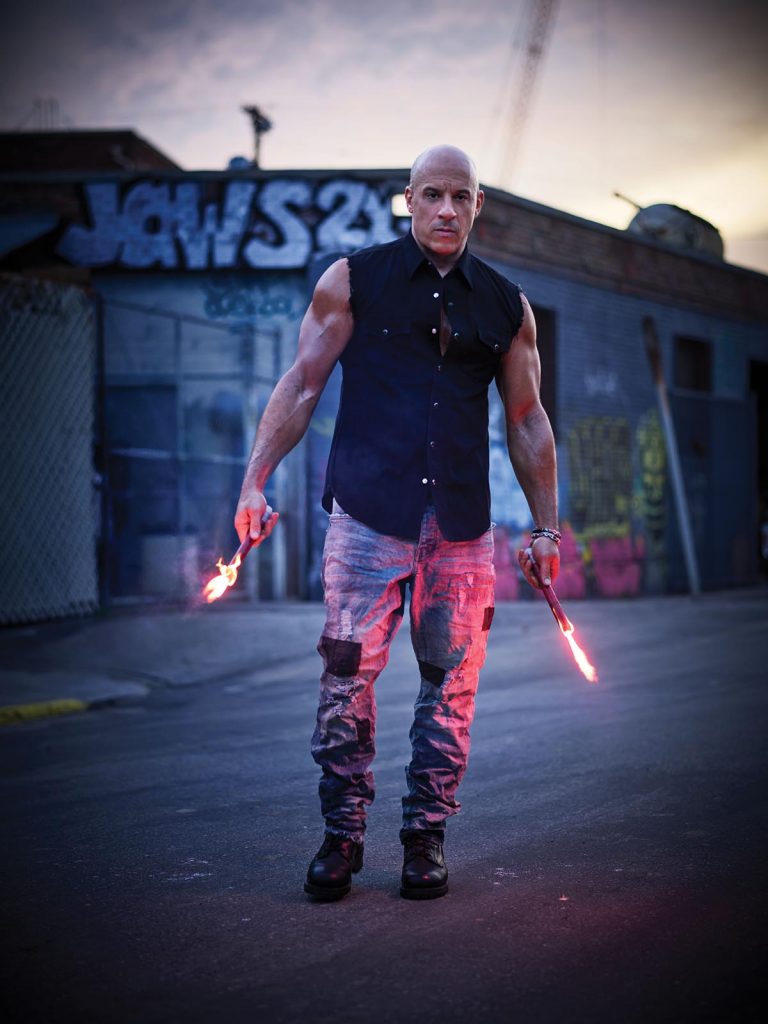 William Henry provides the modern warrior with a unique line of luxury jewelry and pocket knives forged in a metal shop in rural Oregon. Fire, resilience, and painstaking precision characterize every William Henry creation. We're not scared to showcase our passion and love for the craft of engraving, carving, and jewelry and pocket knife-making.
In reality, jewelry making and artistry have always been a part of the evolution of man. From neanderthals who crafted jewelry by stringing together animal bone and shells to modern-day artisans who utilize ancient steelworking techniques and 3D design software, jewelry-making is in our blood. As a form of artistic and fashionable expression, our jewelry and pocket knives offer an exquisite form and function.
Exotic Materials, Evocative Designs
If a sleek and colorful William Henry bracelet is good enough for Vin Diesel, it's good enough for the everyday man. You don't have to save the world from nefarious villains on the daily. Being a devoted father, husband, son, or friend is all it takes to earn the cache needed to don a Willian Henry piece.
No longer are men relegated to buying clunky, bare, and uninspired pieces of metal as jewelry. William Henry incorporates exotic and responsibly source materials such as fossil mammoth tooth and dinosaur bone, meteorite, and hand-forged Damascus steel. We're not afraid to show off our artistic, bold, and often colorful designs.
William Henry's evocative designs are handcrafted by master artisans who spend countless hours refining every inch and groove of a pen, pocket knife, necklace, or another jewelry item for men. Explore a more intimate, confident, and daring side of your personality with William Henry's striking pieces meant to stand the test of time.
Legacy Jewelry & Pocket Knives
William Henry's evocative jewelry designs are just one part of the equation. Explore our luxury pocket knife collections for the ultimate in utility, strength, and art. Pocket knives are no longer a measure of protection against an unforgiving world, but a sign of taste and wisdom. Owning a William Henry pocket knife is more than a formality, but a fashion statement. Express your joie de vivre with William Henry's luxury jewelry and pocket knives.