Necklaces are the last frontier of men's fashion. For women, they can be the breathtaking centerpiece of an outfit. For men, they serve a more complementary role to highlight your unique personality, or just to accent your modern wardrobe. Knowing how to accessorize your necklace is key to creating an effortlessly cool look day in and day out.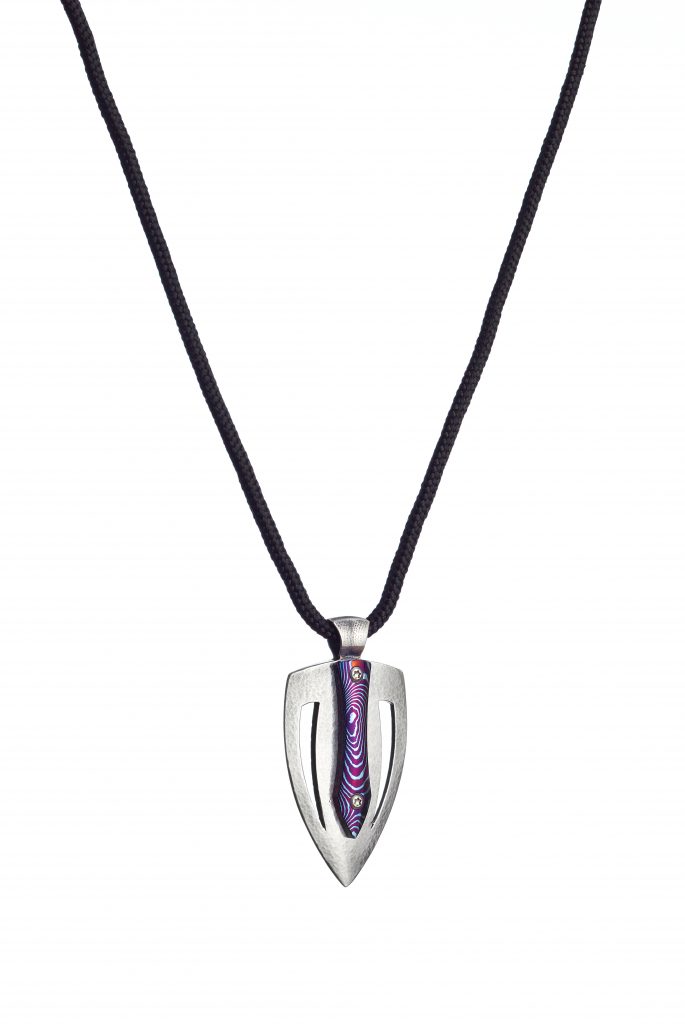 Our men's necklace fashion guide will give you a historical rundown of this modern-day accessory. We'll go over the materials and styles and give you tips on how to pick and rock your necklace from the streets to the board room.
History
Today, the necklace is an affordable accessory that can be worn to express one's style and personality. Back in the day, however, these glitzy adornments were used exclusively to signify wealth, status, and power. Showing off the artistry and style was a secondary benefit. Throughout the years, however, the necklace has endured as a symbolic token.
Prehistoric civilizations would use animal bones and teeth, flowers, leaves, and shells to create inspired jewelry. Ancient civilizations would wear these adornments for celebratory, religious, and funerary purposes. Ancient Egyptians would use a broad collar necklace made of fine metals and beads. These amulets and talismans were thought to protect the wearer from bad spirits and bring them good luck.
The Celts in Ireland, known as impeccable metal craftsmen, would make elaborate jewelry and armor out of fine metals. In their heyday, they invented the torc or torque, a semi-circle "necklace" worn around the neck with the open part facing forward. Another piece, the lunula, was a crescent-moon-shaped collar that tapered toward the nape.
Early European marauders would wear metal pieces inlaid with glass, stones, and pearls. During the Middle Ages, jewelry became an essential part of what you wore and showed your social and economic status. Throughout the Renaissance, men and women would wear plaques, pendants, and gems around their necks.
The male necklace fell out of favor during the 1600s but came back with a vengeance in the latter half of the 20th century. The King of Rock and Roll, Elvis Presley, was an avid jewelry collector and would wear his ornate necklace designs during concerts.
During the 1960s, hippie "love beads" were worn by both genders and represented peace, love, and unity. Disco dance floors popularized the sparkling and dramatic necklace style. Hip-hop culture propelled the necklace to legendary status as rappers donned blinged-out accessories from head to toe to represent overcoming the class struggle.
More recently, necklaces for men have been prominently featured in high-fashion magazines and catwalks, as well as street style blogs. As gender stereotypes break down, men have been more receptive to the unique, rugged, and stylish nature of a necklace. These stylish accessories can evoke confidence, sophistication, and finesse.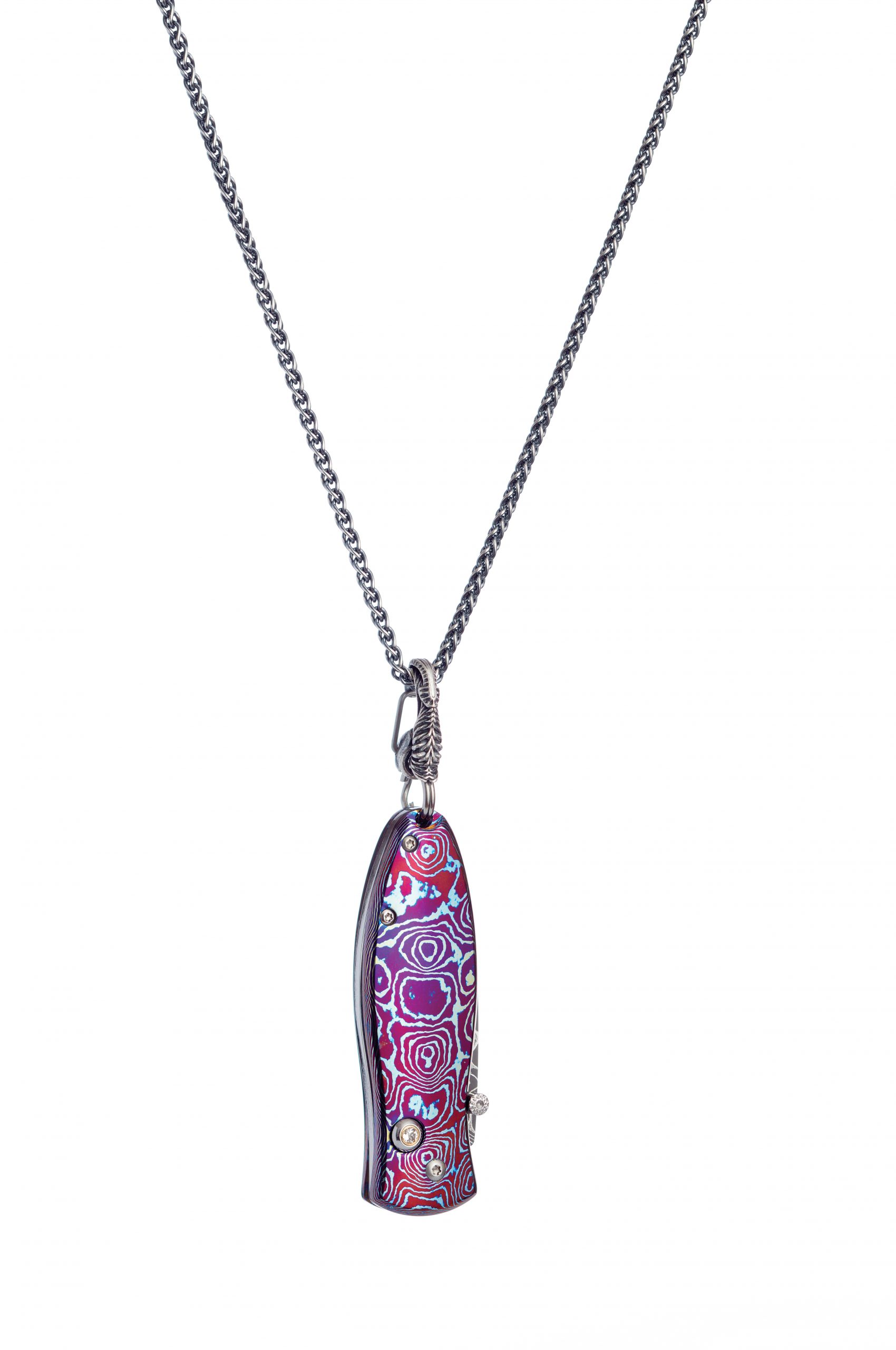 Material
When choosing the right piece for you, consider the material first. Sterling silver and gold are two of the most popular metal options for men's necklaces and jewelry, in general. These options are great for those with sensitive skin and won't cause reactions even if you wear them all day and night.
Oxidized sterling silver is a classic and rugged choice that can complement navy blues, grays, and olive greens. Sterling silver tends to complement cooler skin tones, especially during the winter season. Wear it with a simple white T-shirt or under a sleek business suit. It's all fair game.
Yellow gold offers a more vivid hue compared to a silver chain. This metal creates the perfect contrast to black ensembles or those with warmer tones such as orange, red, and brown. This metal looks best for warmer skin tones. For a unique and classy touch, go with white or rose gold designs.
Both metals can work well in a formal or casual setting. For an ultra-relaxed style, turn to the waxed cord, beaded, or rope necklaces. Waxed cord necklaces are ideal for carefree beach days. Beaded necklaces are the perfect boardwalk accessory. Leather necklaces are an edgy alternative for the rebel without a cause.
Chain Design
The most common type of metal chain design is the cable design consisting of interconnected oval links. Each design can dramatically affect a look. Here's just a sliver of the different types of available.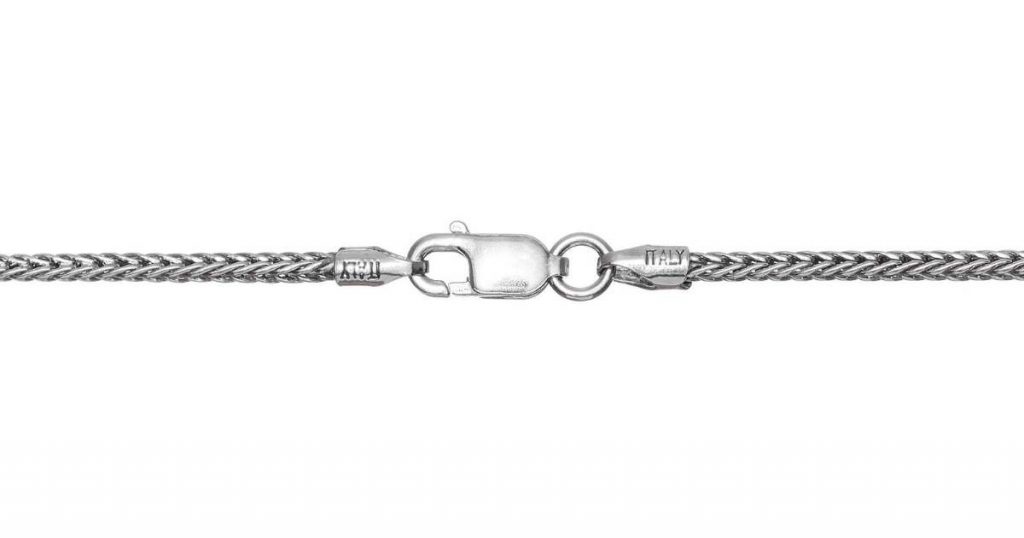 Rope Chain
It features tiny links twisted in a spiral pattern, similar to a rope. They can fit nearly every style imaginable. For a funky look, choose a two-tone version.
Curb Chain
This timeless piece consists of identical and flattened links. Thin pieces under 5 mm are a good choice for most styles. Thicker ones can work for a bold look but can become clunky-looking with a pendant attached.
Figaro Chain
These look like curb chains, but they have long, oval-shaped links after every third link. Hailing from Italy, this style is best-worn without a pendant. If you must have a pendant, opt for a thinner piece.
Box Chain
This durable and rugged style is made of square-shaped links. This type is a sophisticated alternative that can last for generations.
Wheat Chain
It features a striking pattern that resembles a wheat stalk. Go for a thin 3 mm or under piece with or without a pendant. Your choice.
Rolo Chain
For a delicate and chic look, go with the Rolo's thin symmetrical links.
Leather Chain
This type is made out of a leather cord secured by a metal clasp. They can be smooth or braided. Both are soft and comfortable to wear all day long. Plus, vegan alternatives are available.
Beaded Chain
This necklace is made out of stone, shells, or beads.
Pendant
Choosing a pendant for your necklace is a completely personal choice. Which pendant's story do you want to share? If you can't decide, stick with vintage-inspired pieces. Choose a holy cross to represent your faith. Go with an anchor to symbolize your strength and nautical flair. No matter what pendant you choose, consider its meaning and emotional value.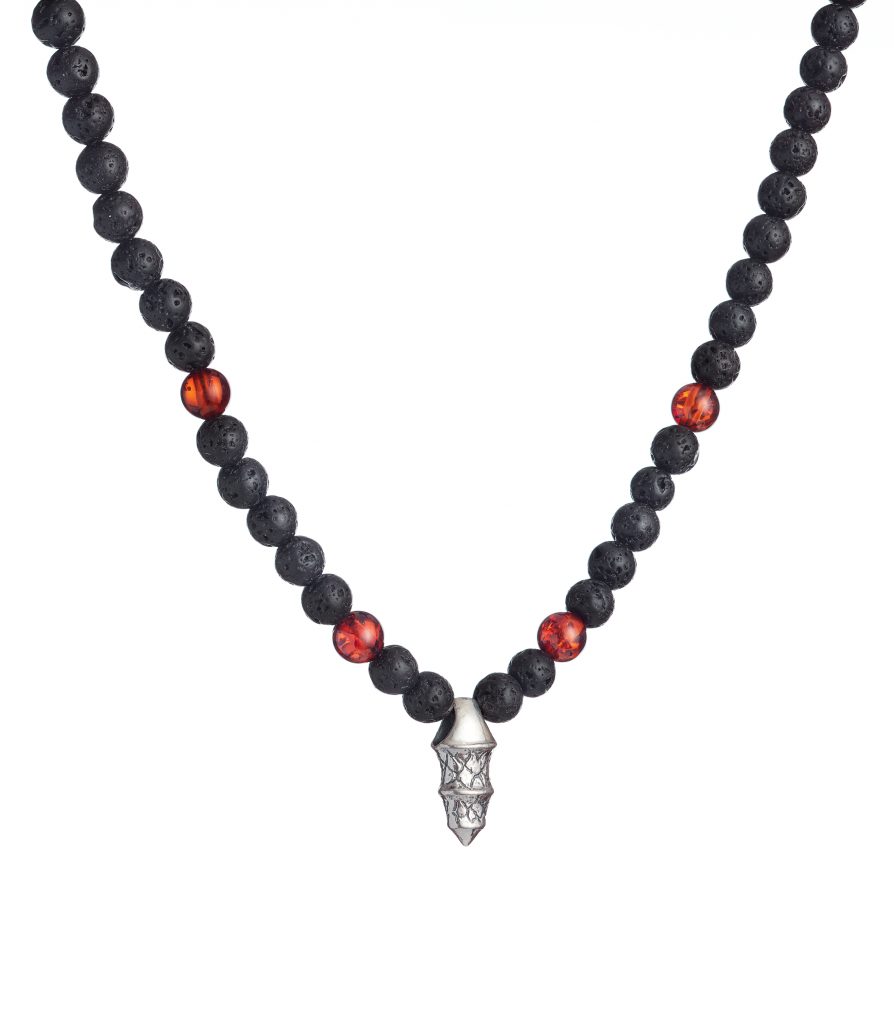 Wearing a necklace alone can be a simple way to express your style, but pendants can be eye-catching pieces that make the perfect ice breaker at a party. Small pendants on a long piece can be tucked underneath a shirt to evoke curiosity.
How to Wear a Necklace
Simple, but personalized pieces are best. Sometimes, a dramatic and colorful piece is fitting. A necklace can be worn on top of a shirt or tucked in with the chain showing a little. Whatever style you choose, make sure your metals are matching.
A necklace can complement a simple white T-shirt and leather jacket or a business suit with an open-button shirt. A tucked-in and simple chain necklace can add a subtle flair, while a longer one worn outside can attract attention. When wearing a necklace with a suit, go for simple chains with an unbuttoned top button and leave the tie at home.
Necklace Length
Chokers won't work well in a business meeting room but can work for casual occasions. Mid-length chains end at the base of the neck or just above the collarbone. These can add a sleek touch to a basic T and some denim jeans. Longer chains are ideal for pendants and can be hidden under a shirt or worn with a V-neck to make the pendant visible.
18 and 20-inch long chains are the most common lengths for men. 18-inch chains verge on choker territory depending on your neck circumference. 20-inch long chains sit right at the collarbone and can be worn inside or outside the shirt. Anything 22-inches or longer looks great with pendants. Longer chains up to 30 inches long are usually worn outside the shirt.
Longer chains can elongate the neck and make your chest the focal point. Shorter chains are closer to eye level and easier to spot. As a general rule, longer pieces work well for casual styles, while shorter can work for formal outfits. You can experiment by wearing necklaces of varying lengths. Thickness wise, go for a chain necklace around 2-6 mm thick.
Shop Men's Jewelry at William Henry
Express your personality and values while celebrating the journey and adventure that awaits. William Henry helps you tell your story through a wide selection of sustainably sourced men's jewelry pieces made to enhance your daily wardrobe.
Complete your look with a sleek and sturdy necklace adorned with striking pendants. Choose evocative designs such as the holy cross, skulls, daggers, and mini pocket knives for utility and style. Each piece is inlaid with the most exotic materials available including 100 million-year-old dinosaur bone and meteorite from space.