Wearing men's jewelry has gone from a flamboyant and ostentatious display of bling to a fashionable way to express yourself with colorful and stylish jewelry accessories. Wearing jewelry pieces properly can instantly elevate your wardrobe.
Generally, men shy away from wearing delicate and diamond-studded pieces, as well as over-accessorizing. While there are no hard and fast rules to wearing your jewelry, we've assembled some recommendations to show you how to wear jewelry for men and keep you looking dapper at all times.
Watches
For horologists and men who wear jewelry, luxury timepieces represent a storied tradition of craftsmanship and precision going back thousands of years.
A watch is a versatile, functional, and stylish jewelry accessory that can amp up casual attire to a higher level. Generally, watches should be worn snugly on the opposite arm you write with to avoid movement restrictions.
For your everyday wear watch, choose a metal, steel, or leather bracelet paired with a round, square, rectangular, oval, Tonneau, and plenty of other case shapes. Everyday wear watches can be simple, sporty, and bold.
With the advent of smartwatches like the Apple Watch, men can now accessorize even more. Switch out your smartwatch band for a bold and striking band made of leather or metal or a sporty colorful one. The sky's the limit.
For those special occasions, a luxury timepiece, especially Swiss-made can complete your dressy look. Classic timepieces feature bare-bones details while retaining a high level of elegance. Minor details and sophisticated roman numerals can complete your outfit.
Belt Buckles
Belts and the adjoining belt buckle literally bring your outfit together. Aside from its aesthetic aspect, belts are essential to complete your formal look. For business casual settings, make sure to match your belt buckle and belt color to your watch and shoe color and finish.
Belt buckles are available in a variety of styles, colors, and models for any type of wardrobe. Belts can be personalized to reflect your interests. Just make sure your belt is big enough to fill your bet loops. When putting on your belt, insert your belt through your left side loops and tuck the leftover end on the left, as well.
Side note: This should go without saying, but avoid wearing belts with suspenders. Men wearing suspenders should leave the belt at home. A belt and suspenders is overkill.
Necklaces
Men's necklaces come in an array of clean and sleek jewelry styles with a range of stunning pendants. A single necklace can go a long way in adding richness and complexity to your look, albeit, the sparkle from your piece of jewelry can be distracting in certain formal and workplace settings.
Necklaces can be worn with a basic t-shirt or tucked under the shirt for a cool and casual appeal. Choose from stainless steel and gold options that match your outfit or ones with a striking pendant design to match your personality.
Bracelets
Real men wear bracelets. Men's bracelets usually don't include a wide range of colorful gemstones, charms, and pendants you see in women's bracelets. Instead, bracelet jewelry styles for men complement an outfit by making a bold statement. Minimalistic and bare jewelry styles made with metal or leather in single or double-band form is common, but elaborate designs and exotic materials abound.
Bracelets for men come in an array of styles and builds. Choose sleek metal bracelets for their clean and rugged look. Leather band bracelets are masculine and chic. Fabric woven bracelets are affordable and colorful accessories that show off your style.
We'll make a special mention of bead bracelets, which are prized among men due to the sheer selection of bead materials, colors, and types ranging from wooden styles to luxury versions made of exotic materials such as bone and glass.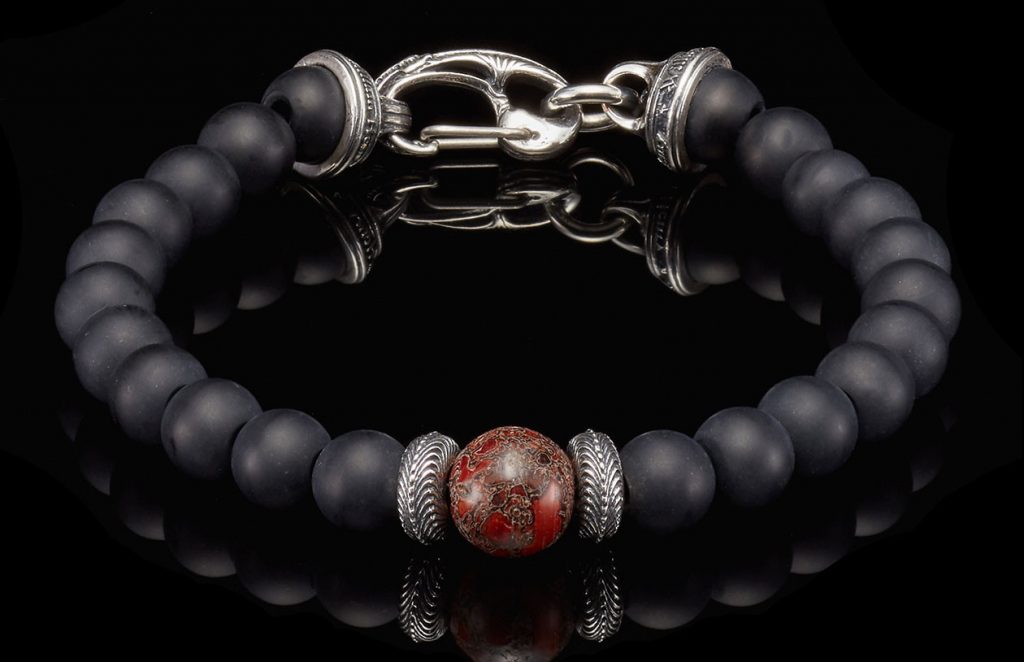 Lapel Pins
A simple business suit can look boring and dry on most occasions. Add a personalized touch with a basic or striking lapel pin. The mark of a statesman also translates to business or personal settings. Keep the lapel pin size small, especially when wearing it with other accessories such as a chest square.
Lapel pins are a unique form of self-expression, especially when attending certain functions that can be celebrated with a relevant and stylish lapel pin. Always wear your lapel pin on your left lapel just slightly above your pocket square.
Tie Clips
A tie clip, also called a tie bar, provides you with a supportive tool to keep your tie in place. Without one, you're left vulnerable to a fashion faux pas in the presence of a heavy gust of wind. Tie clips come in a range of styles and colors you can match with your outfit.
Now, how should you wear the tie clip? Some guys wear it too high or too low. Ideally, tie clips should go between the third and fourth buttons on your shirt. For the best support, tie your clip over your tie and under your shirt. And finally, keep your tie bar length shorter than your tie width.
Cufflinks
Cufflinks are a practical and fashionable accessory used to keep your shirt cuffs neat and in place. Cufflinks are almost exclusively used in formal and high-end occasions. Although small in stature, cufflinks can be eye-catching statement pieces that show off your quirks.
For work settings, a timeless and elegant style in silver or gold circles or squares can serve its purpose and wrap up a classic look. When you get to fully express yourself, break out the casual metal cufflinks in an assortment of edgy styles.
Earrings
Earrings may not fly in a business atmosphere, but on the weekends or in workplaces with relaxed dress codes, earrings make the perfect fashion statement. Small-gauged earrings in neutral, solid, or dark colors are subtle and impactful accessories.
Ears can be pierced in a number of areas, but the lobe is the most common ear piercing for many men. Men can choose from a variety of silver, gold, stainless steel, and titanium jewelry pieces. Titanium is a common choice due to its hypoallergenic nature.
Rings
Men's rings can add a sharp contrast to your skin tone. In a business setting, a single ring in silver or gold with a clean design offers the right amount of style and self-expression. In casual settings, you can stack your rings on a single finger or across multiple fingers.
Avoid wearing fashion rings on your left ringer if you're not married to prevent confusion in the workplace. Otherwise, you don't need to worry about where you wear your ring.
Wearing a ring on your pinky finger truly makes a statement. Wearing it on your middle finger can hinder certain manual tasks that involve fine dexterity. Wearing your ring on your index finger is probably the best to prevent interference with everyday tasks.
Wedding Rings
A wedding ring represents a lifelong commitment and undying passion for your partner. Wedding rings for men are available in a variety of options including ones made of alternative metals such as tungsten, titanium, cobalt, and stainless steel.

In America, most men wear their wedding ring on their left ring finger. If possible, avoid mixing ring metals. If your wedding band is silver, stick with other silver rings. If you have a gold band, opt for other gold jewelry pieces.
When choosing your wedding ring, keep it proportionate to the size of your hands. If you have large hands, feel free to express yourself with a large and bold wedding ring. If you have smaller hands, embrace the compact rings.
Money Clips
Money clips condense your wallet's contents into only the essentials. Functional and fashionable, money clips hold your cash, identification, credit and debit cards, business cards, and other important material.
Money clips provide you with a slim carrying device that not only keeps your items organized, but also avoids wreaking havoc on your back. Wearing a bulging wallet can add excess strain on your back muscles and joints.
Piercings
Piercings are the final frontier of men's jewelry. Generally, regarded as an act of rebellion and defiance, the right type of nose, brow, or other piercing can add a sense of mystery and charm in the right man.
Go with titanium for a hypoallergenic fit. Certain piercings may not pass your work's dress codes, while others are reserved for more eccentric types.
Shop Men's Jewelry at William Henry
Complete your staple wardrobe with a one-of-a-kind and exotic piece of jewelry from William Henry. We craft high-end men's jewelry including necklaces, bracelets, money clips, cufflinks, key chains, and writing instruments. We help you keep it simple while pulling out all the stops when wearing jewelry.
William Henry luxury men's jewelry is made with sustainably-sourced and exotic materials such as prehistoric fossil mammoth tooth or dinosaur bone, as well as the awe-inspiring meteorite hailing from outer space. William Henry is your number one source for the most exquisite and innovative jewelry designs for men.