Dino Quest
BR12 DB RB
Your Quest has been realized! This bracelet is impressive worn on its own, yet still understated enough to be layered with other pieces. Rendered in sterling silver with a rough and ready satin finish, and inlaid with fossil dinosaur bone. Sterling spring clasp closure. Find your own calling...




Features & Specs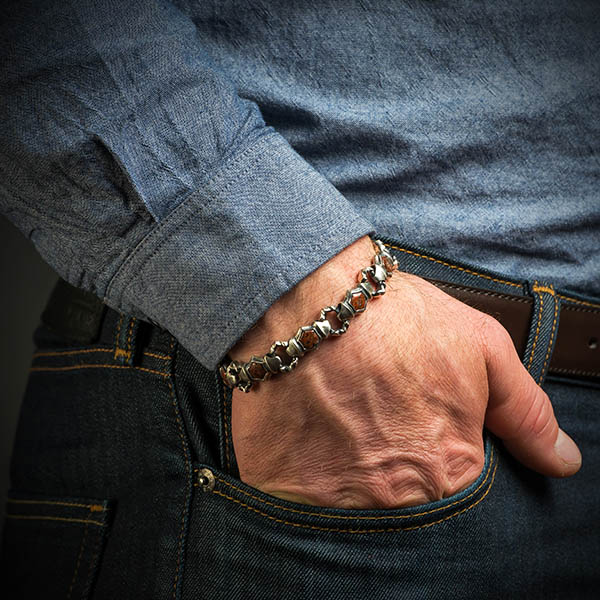 Materials
Sterling Silver
Sterling silver is an alloy of silver containing 92.5% by mass of silver and usually 7.5% by mass of copper. The sterling silver standard has a minimum millesimal fineness of 925. The sterling alloy originated in continental Europe and was being used for commerce as early as the 12th century in the area that is now northern Germany. William Henry uses the latest state-of-the-art casting equipment to create mesmerizing pieces that are often considered par with our hand-carved work.
Fossil Dinosaur bone
Dinosaur Bone is probably the most exotic of our fossil materials — the fossil comes from a 100 million year-old Apatosaurus. Found and sourced in Utah, dinosaur bone offers the possibility of owning one of the most ancient zoological testaments of the planet. The colors can vary from red to brown, black and green, depending on the minerals surrounding the bone as it became petrified.
Here is a stunning 40lb specimen we shot here at the studio.


More from this collection