Amber Zenith
BB19 AMB
The Zenith is a gorgeous beaded bracelet, featuring premium 10mm Baltic amber beads offset by sterling spacers with a rich satin gunmetal finish. On a durable paracord with sterling tips and a fully adjustable spring loaded clasp that securely locks where you want it. Beautiful, flexible, timeless, and perfect on its own or stacked with other pieces...




Features & Specs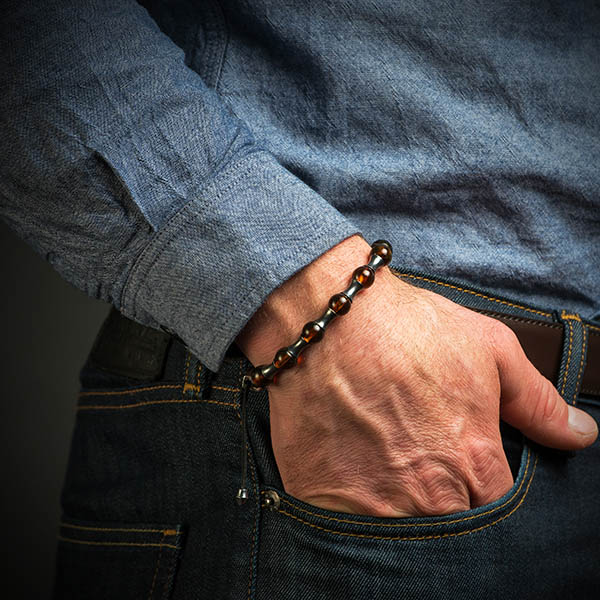 Materials
Baltic amber
Amber consists of fossil resin and owes its existence to tree resin. The most famous and sought-after amber comes from the Baltic region.
Also known as 'burning stone' Amber is very popular in the field of medicine and healing stone therapy (Historically, Baltic amber has been used to alleviate many types of pain -- from dental pain, arthritic joint pain to swelling, and inflammation)
Sterling Silver
Sterling silver is an alloy of silver containing 92.5% by mass of silver and usually 7.5% by mass of copper. The sterling silver standard has a minimum millesimal fineness of 925. The sterling alloy originated in continental Europe and was being used for commerce as early as the 12th century in the area that is now northern Germany. William Henry uses the latest state-of-the-art casting equipment to create mesmerizing pieces that are often considered par with our hand-carved work.
Tactical paracord
Parachute cord or 'paracord' is a lightweight nylon kernmantle rope originally used in the suspension lines of parachutes. This cord is useful for many other tasks and is now used as a general purpose utility cord by both military personnel and civilians. This versatile cord was even used by astronauts during the 82nd Space Shuttle mission to repair the Hubble Space Telescope.
The braided sheath has a high number of interwoven strands for its size, giving it high resistance and a relatively smooth texture.
More from this collection