Morpheus Bluenote
B02 BLUENOTE
Morpheus Bluenote
B02 BLUENOTE
The 'Bluenote' belongs equally on your neck as a pendant, in your pocket as a keychain knife, or in a museum. Blade is hand-forged stainless 'Boomerang' damascus steel by Chad Nichols, and the handle is crafted from hand-forged & heat-blued 'Twist' damascus steel, also by Chad Nichols, and inlaid with mother of pearl. Accents are a blue sapphire gemstone, sterling silver clasp, and a sterling chain.
(Optional 18", 20", or 24" chain by request)
Features & Specs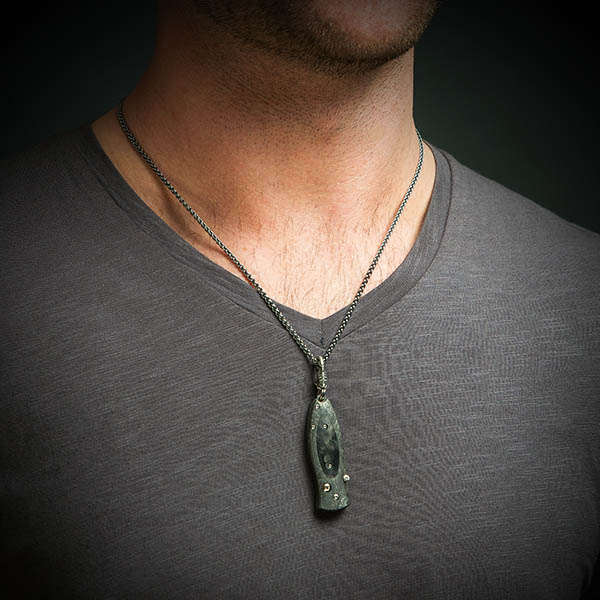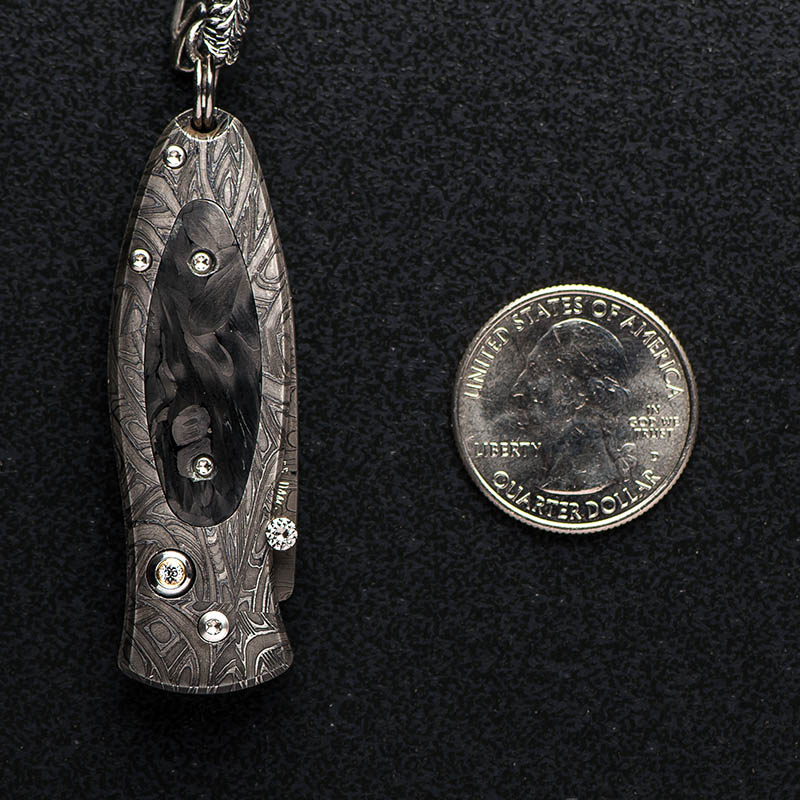 Safe button lock system
Dimensions:

Blade 1.60" (40.64mm)
Handle 2.25" (56.0mm)
Overall open 3.80" (96.52mm)
Materials
Hand-forged damascus
Damascus steel was a term used by several Western cultures from the Medieval period onward to describe a type of steel created in India and used from about 300 BC to 1700 AD. These blades were characterized by distinctive patterns of banding and mottling reminiscent of flowing water. They were reputed to be not only tough and resistant to shattering, but capable of being honed to a sharp and resilient edge. William Henry's damascus is made from several types of steel welded together to form a billet.
The patterns vary depending on how the damascus artist works the billet. The billet is drawn out and folded until the desired number of layers are formed. William Henry damascus billets are forged with a minimum of 300 layers. William Henry works with a handful of the very best damascus artists/forgers in the U.S.
Mother of Pearl
Mother of Pearl is the common name for iridescent nacre, a blend of minerals that are secreted by oysters and other mollusks and deposited inside their shells. William Henry uses premium mother of pearl material sourced directly from suppliers in Australia, selected for maximum color and figure.
Sapphire
Traditionally, sapphire symbolizes nobility, truth, sincerity, and faithfulness. It has decorated the robes of royalty and clergy members for centuries. Its extraordinary color is the standard against which other blue gems—from topaz to tanzanite—are measured. In ancient Greece and Rome, kings and queens were convinced that blue sapphires protected their owners from envy and harm. For centuries, sapphire has also been associated with royalty and romance. The association was reinforced in 1981, when Britain's Prince Charles gave a blue sapphire engagement ring to Lady Diana Spencer.
William Henry uses the highest quality sapphires, selected and cut by Swarovski Gems.
More from this collection